3 Inexpensive Modern Look Kitchens
As a rule people fall into two camps in terms of taste in kitchens – modern and traditional (or classic, as we prefer to call it). You can use a mix of styles – just add a more traditional handle to a modern door, for example, and vice versa.
We'll be looking into how to mix the old with the new for various different style effects as we publish more articles to help you think about your new kitchen – you can sign up for our kitchen inspiration emails here so you don't miss out.
The two modern ranges we're going to look at are the Metro and the Image. One for those who like a matt finish (Metro) and one for those who like a gloss finish (Image). Then we'll have a brief lookout how to mix and match to great effect.
1. Metro
The Metro range is designed for those who like a no-fuss clean and simple look. You can choose thin wide handles to give it the handless look, or use any number of chrome or brass handles to change the look and feel.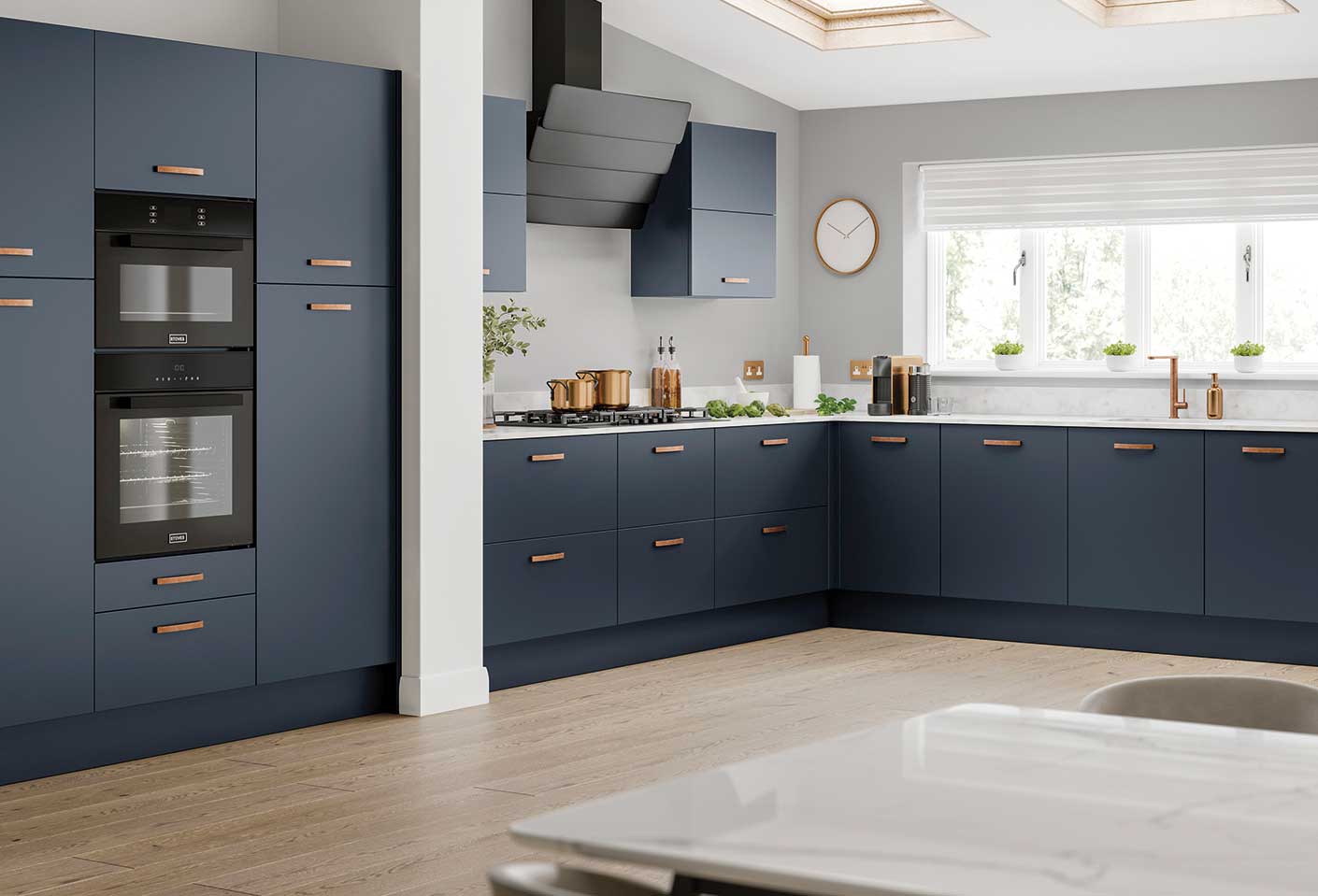 Metro Indigo with copper handles.
One of the really great advantages of the Metro range is its ability to work well with just about any type of worktop. You can have the crisp sharp finish of a white quartz or give your modern look a more earthy look with solid wood.
Keep the budget in check and match the Metro with a laminate worktop – and this is where the choice of colours in the range really comes into play. Metro is a paint effect (making it look far more expensive than it actually is) vinyl finish available in the 9 following colours:








2. Image Gloss
The Image Gloss range is super modern and also really versatile. It is hard wearing and feels great to the touch (also wipes down easily – a bonus for messy chefs and kids). You can go all out modern or mix it with other ranges to soften the edge and as always your choice of handle or worktop will greatly vary the look and feel of your kitchen.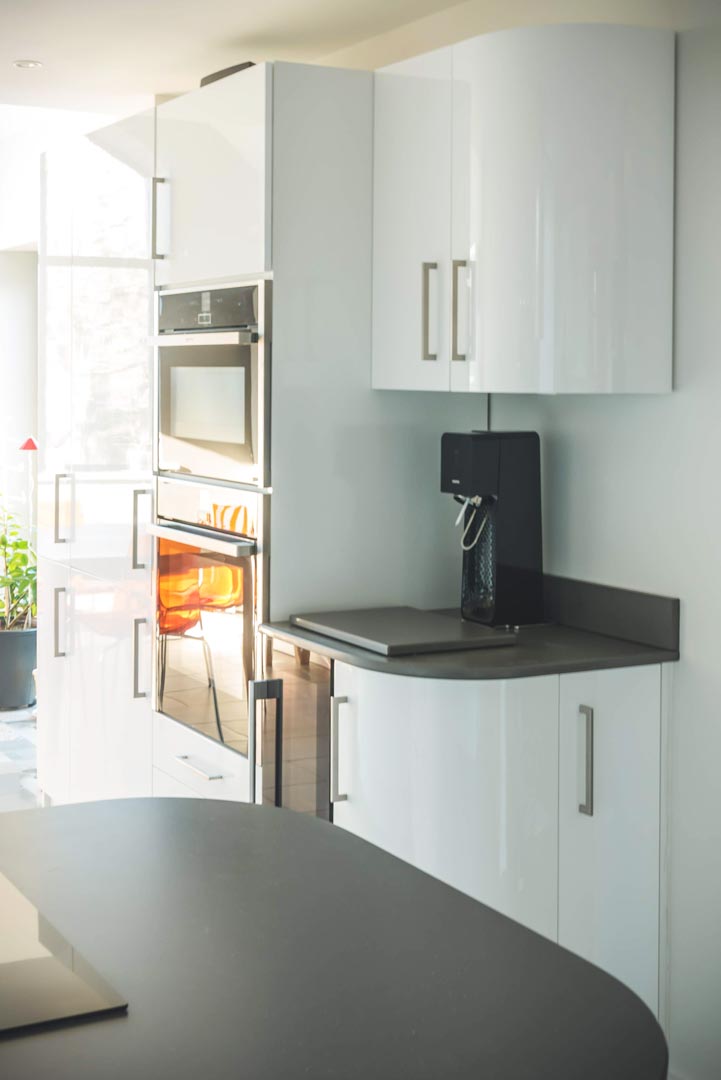 An Image Gloss in white we installed in Didsbury, with black quartz worktop.
Image Gloss Colours
For colours you have the Image Gloss Dakota, which gives real dignity to your kitchen design. Match this with a modern steel tap and a stainless steel sink and you blend warmth with an industrial edge. A real grown-ups kitchen that would also work well with a lighter floor.
The Image Gloss Oyster is a very tasteful cream colour – this works well with traditional handles (such as a simple round chrome) and is a great choice if you want to put a modern look kitchen in a older or period house. You can match this colour nicely with a darker quartz or laminate worktop and you could even be brave and go for a dark brown splashback as a colour compliment!
The Image Gloss White is dead simple and looks amazing with a 20mm dark quartz worktop – or keep the budget down and use an equally excellent dark laminate. For something less stark, the Image Gloss Kashmir is a really popular choice because it can really brighten up a kitchen without being as stark as white or imposing a strong colour.
3. Mixing it up
If you want to soften the edge of the modern look, you could match the Image Gloss with our Tempo Driftwood range – this looks extremely impressive and has the added bonus of keeping your budget in check as the Tempo is one of our least expensive ranges.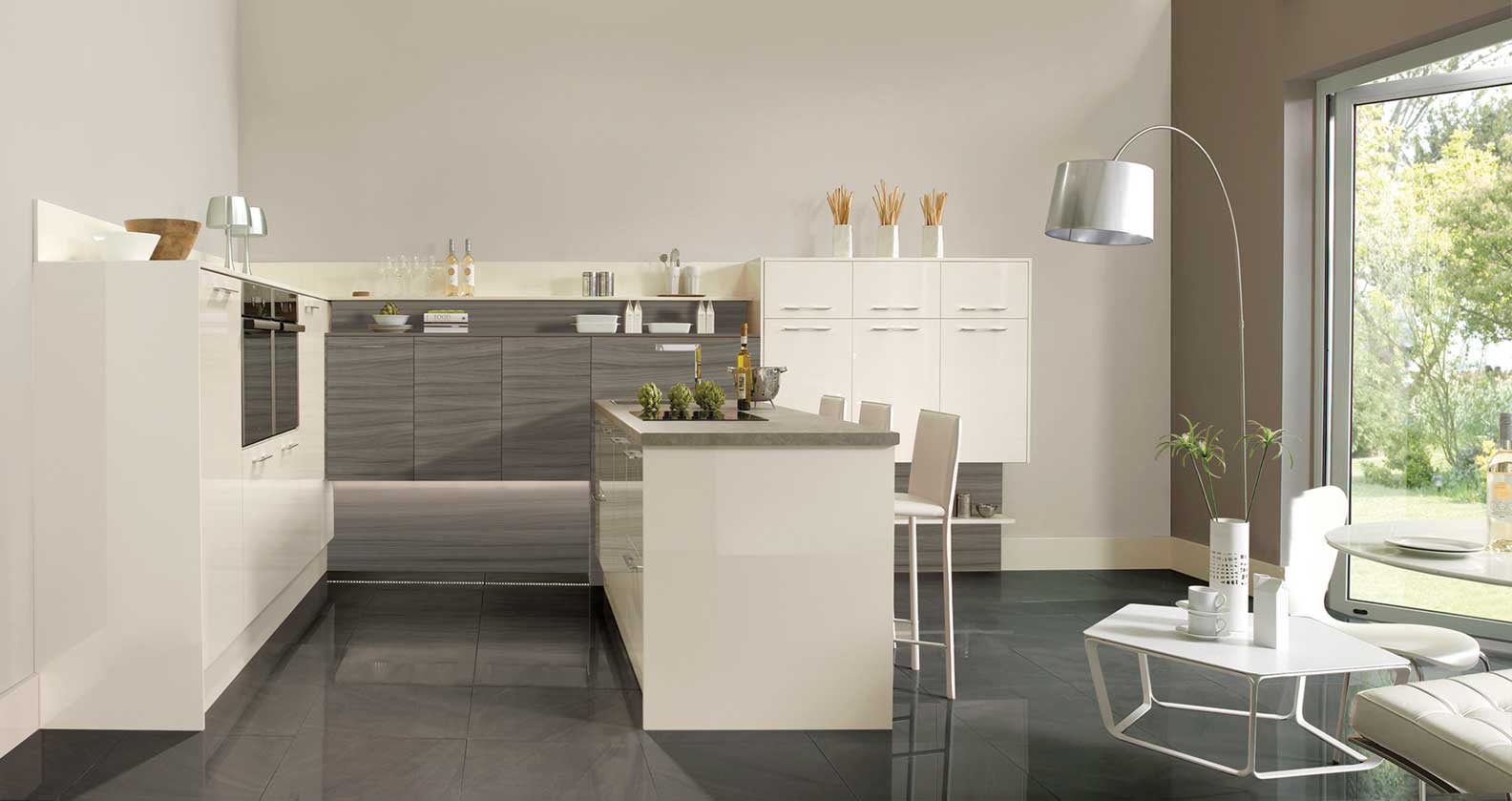 The Metro also works well if you want to add an accent. Either add something earthy such as the Tempo driftwood, or mix two of the Metro range colours. For example:
White base units with Kashmir wall cupboards
or
White wall cupboards with Fjord base units. This looks extra smart with a white, sparkling 20mm quartz worktop.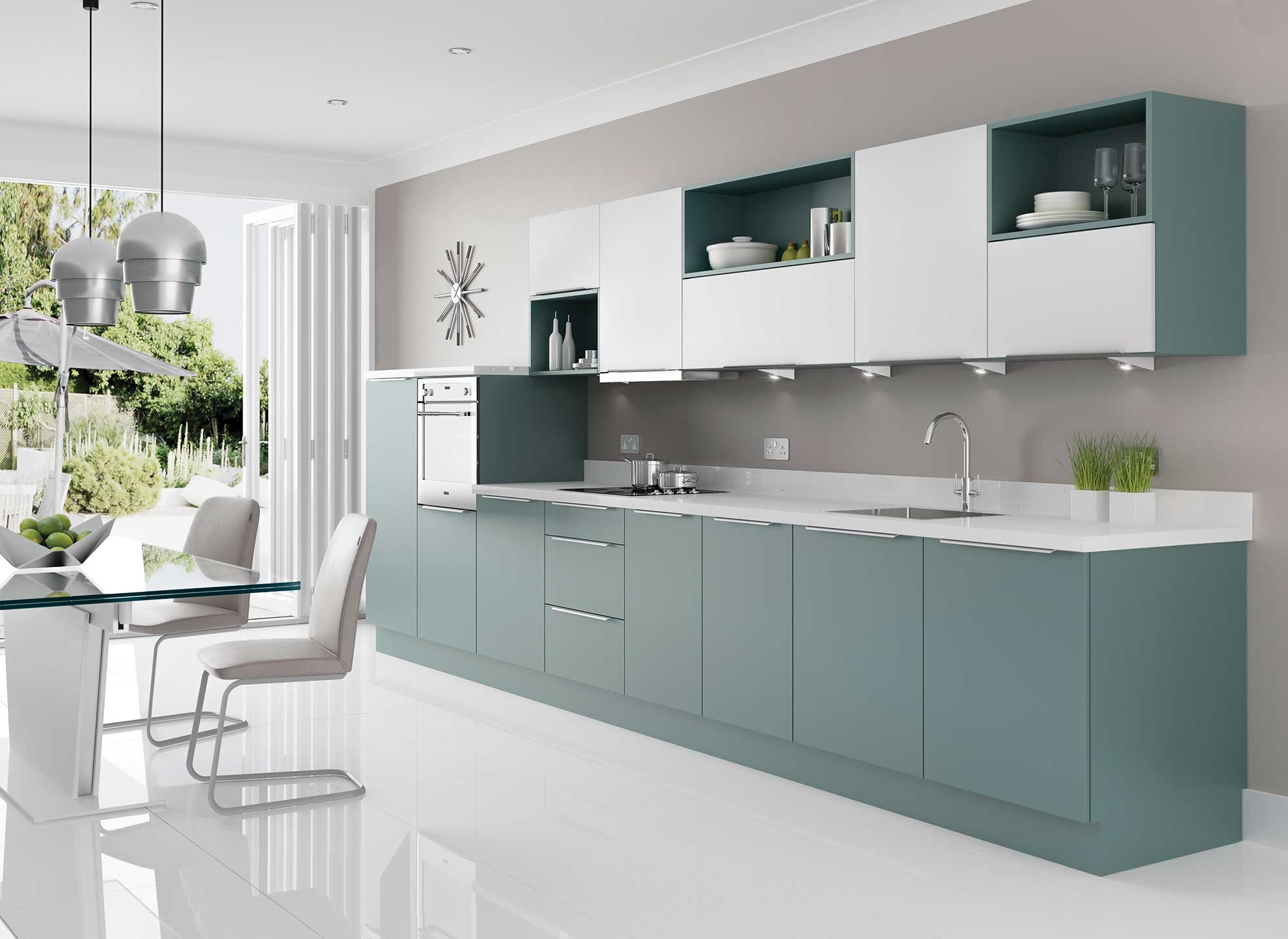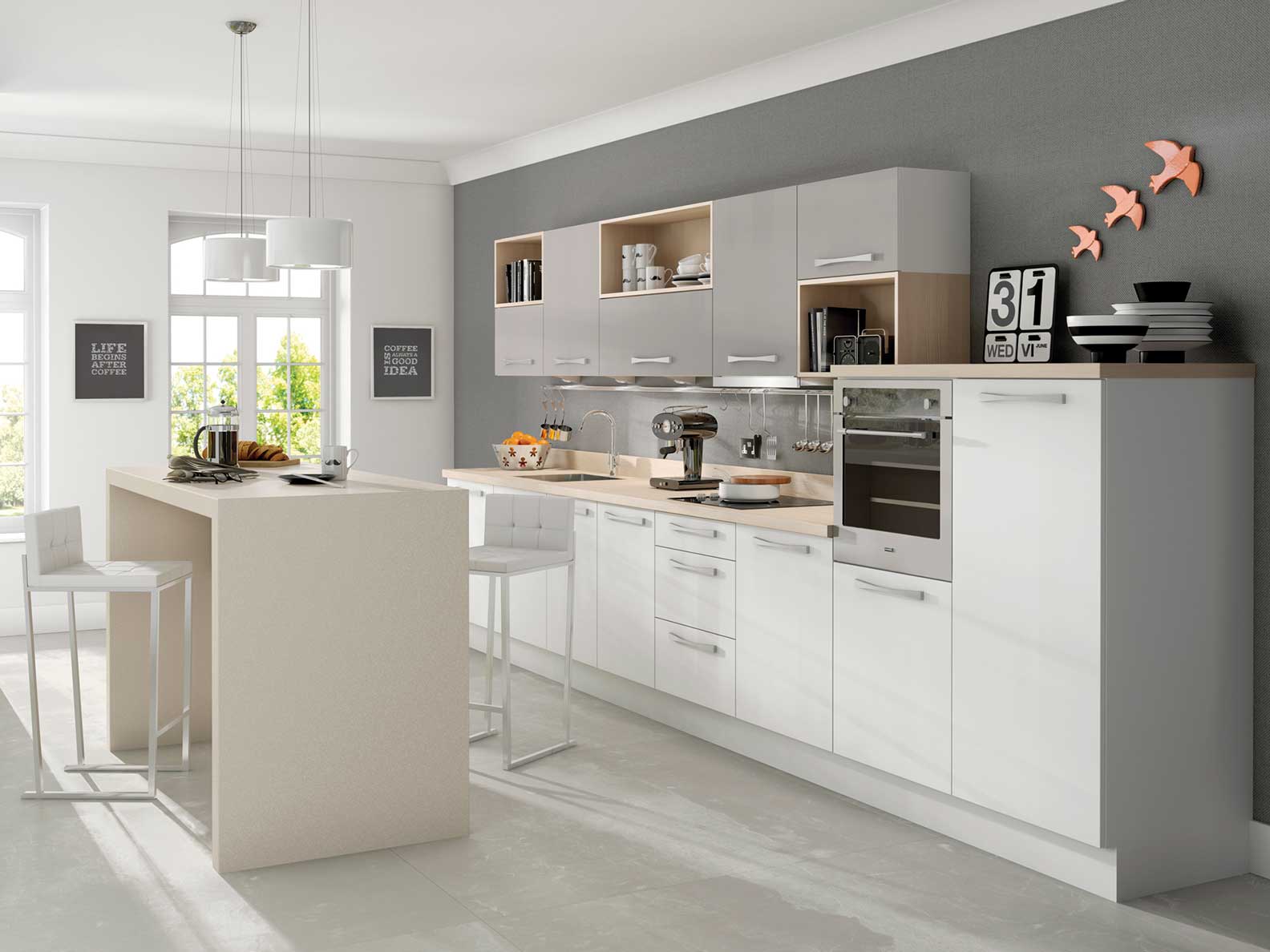 Metro white with Kashmir.
This example layout goes some way to showing how the costing of a kitchen works – but the best way to find out what you need to spend, or better yet, what we can design to fit your budget, is to get in touch and have us put together a free design and costing for you.
Join our newsletter for kitchen info and design inspiration
Free design & Quote
We can help you design your perfect kitchen, whatever your budget. Our expert will visit you or talk via video call. We can design your kitchen space to become the room you want it to be – no obligation.
Click below for details and booking.
Nice things people are saying
"Many of our friends have noticed and commented on the high quality of workmanship"
"Lots of good advice and information. The finished job looks excellent. Very reliable and highly recommended."
"Very professional, friendly and knowledgeable with a really good eye for design"
"We have been hugely impressed with Hill Kitchen Company"