2 inexpensive traditional Kitchens with wow factor
We've written an article about modern kitchen ranges for those who like clean lines and we looked at how you can go all out modern, or add a mix of the classic just by choosing the right handles or mix of textures. You can read that here. In this article, let's take a look at two of our most popular ranges for those who appreciate the traditional.
We regularly write articles you'll find useful when planning to update your kitchen – you can sign up for our Kitchen Inspiration emails here so you don't miss out.
The two traditional (or as we prefer to call them, classic) kitchens we're looking at here are the Pendle and Haddington ranges. One for those who like a touch of the country kitchen with some extra design details (Pendle) and one for those who have similar tastes but are leaning towards a Georgian aesthetic with a touch of the Shaker design vernacular (Haddington).
1. The Pendle – Perfect for country or victorian style kitchens
Traditional doesn't mean old-fashioned, that's why we prefer to call the style classic. Our classic ranges encompass the traditional style, all the while remaining distinctively fresh and as contemporary as any modern range. The Pendle range is available is 14 colours and is hand painted giving it a look of real bespoke quality.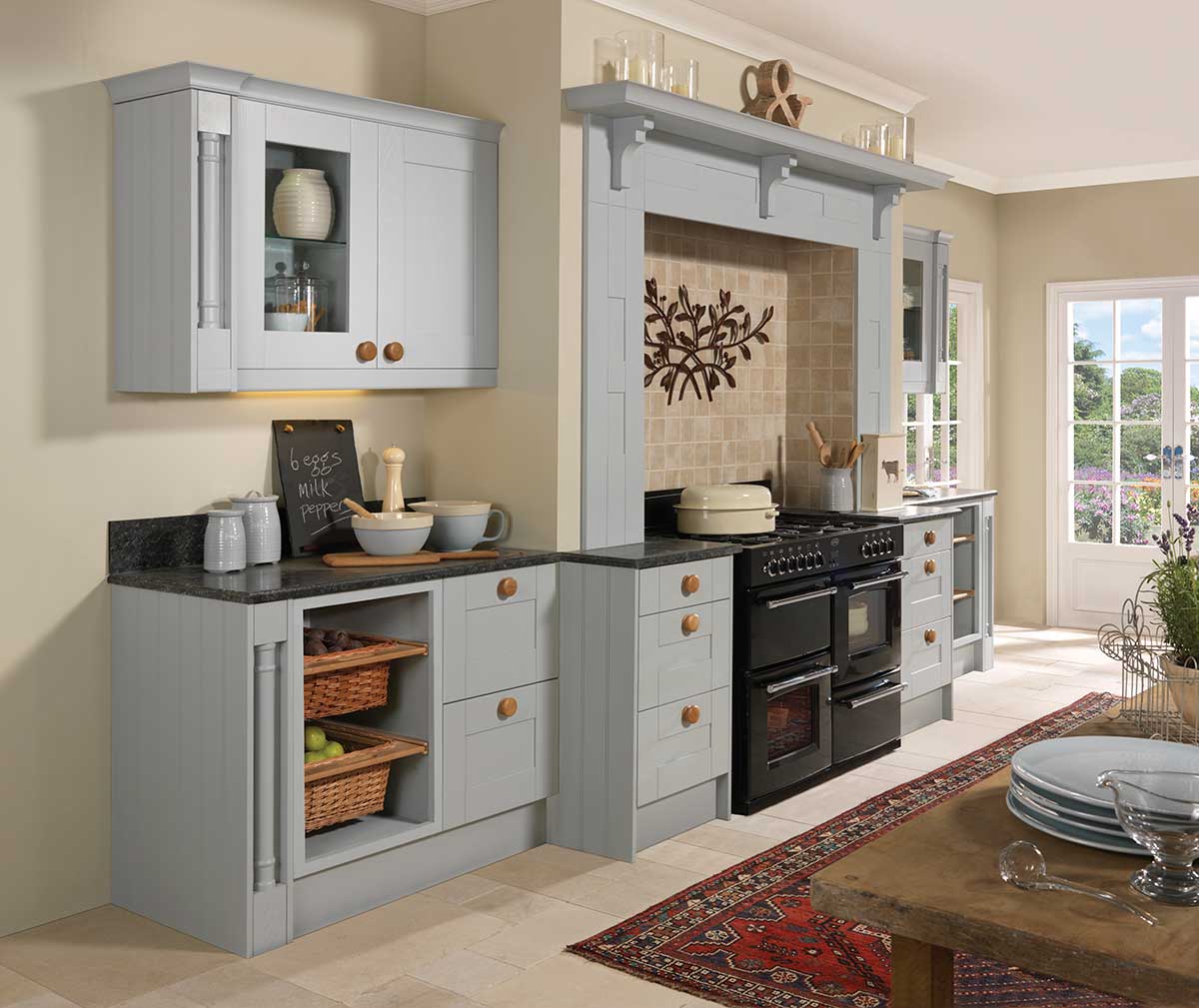 Colonial Pendle Range with wooden handles & range cooker.
There are a few details which you can build in to the design with Pendle to separate the look from the simplistic modern styles. For example the cornices are sculpted with detail and there are tasteful pilasters to give definition to the cabinet ends.
To really finish the style, this kitchen would be great with a range cooker and a vintage wooden kitchen table, if you have the space. As always, your choice of handle will totally change this from cottage kitchen with wooden round knobs to victorian just by switching to nickel or brushed steel handles.
2. The Haddington – Perfect for elegance and adding height
The Haddington range is a contemporary twist on traditional design roots. Made with Ash lacquered timber, the double grooved panel doors give a perception of height and elegance to your kitchen.
Although it can add to the price, the option of curved corners matched with tongue and groove end panels will mean your kitchen can compete in style and quality with any expensive bespoke kitchen (which come with a significantly higher price tag).
This range will work well with any choice of worktop, but looks particularly good with a dark quartz or solid wood. Modern appliances fit extremely well – a tall unit with eye level ovens and a modern ceramic or induction hob will add to the contemporary subtle grandeur.
Join our newsletter for kitchen info and design inspiration
Free design & Quote
We can help you design your perfect kitchen, whatever your budget. Our expert will visit you or talk via video call. We can design your kitchen space to become the room you want it to be – no obligation.
Click below for details and booking.
Nice things people are saying
"Many of our friends have noticed and commented on the high quality of workmanship"
"Lots of good advice and information. The finished job looks excellent. Very reliable and highly recommended."
"Very professional, friendly and knowledgeable with a really good eye for design"
"We have been hugely impressed with Hill Kitchen Company"