A Modern Kitchen in a Disley Country Home
Transforming a 2-bed bungalow in Disley into the perfect country home for hosting dinner parties.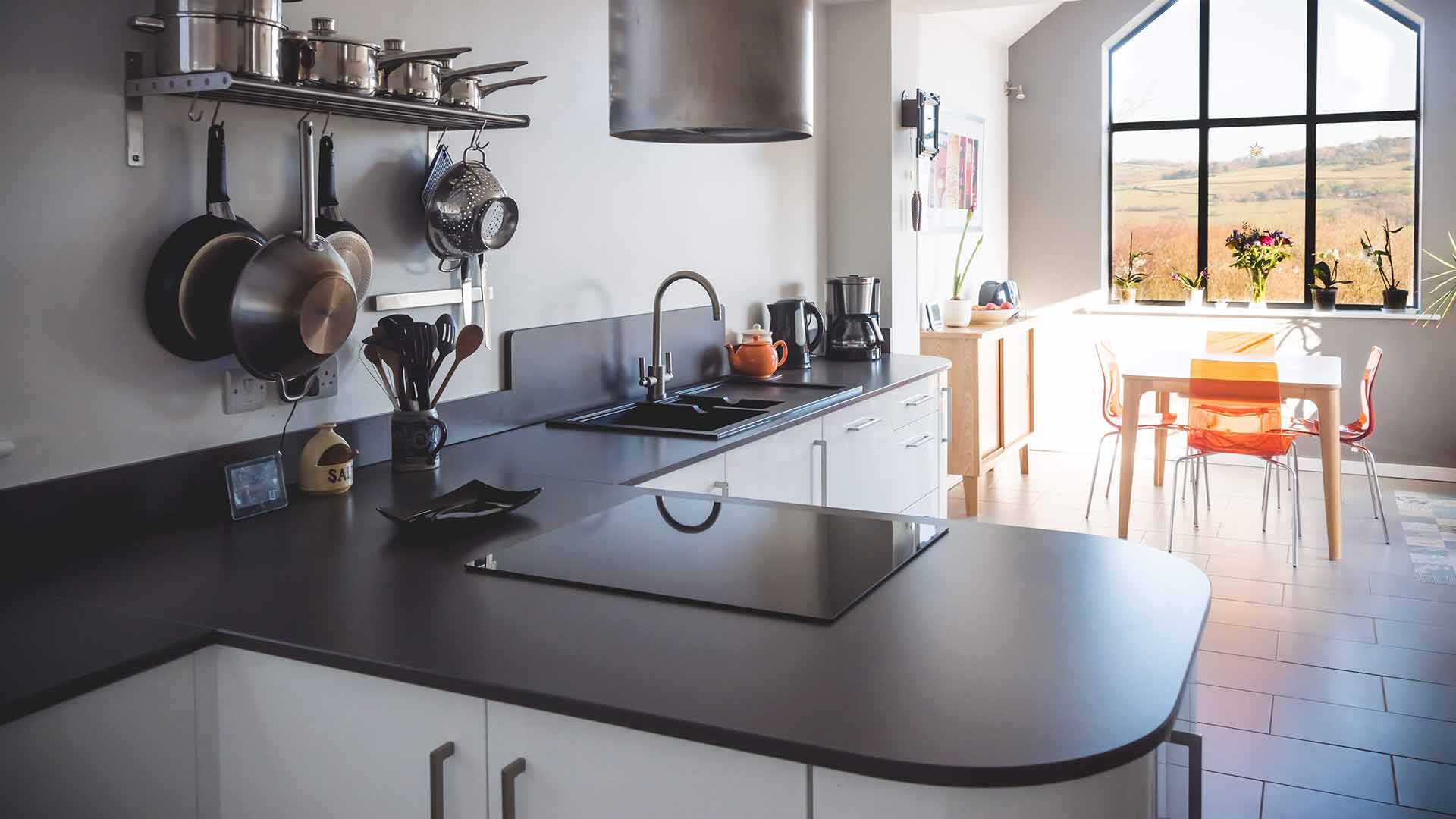 The couple live in an idyllic bungalow by the canal and, believe it or not, that view through the window isn't photoshopped! They wanted an ultra-modern look to give a clean and unimposing feel to the room so that it wouldn't distract from the views.
The couple have a keen eye for high quality craftsmanship and design, so we loved working on this project and aiming for perfection.
An interesting aspect of this project was to incorporate the utility area into the main kitchen room and divide the two spaces with the peninsular. Typically a utility room is separate to the kitchen, but by removing the dividing wall, it helped open up the space to enhance the light airy feel of the room.
A bonus of using the peninsula as a room divider is that you gain much more storage and worktop space which would have been lost if there was a wall instead.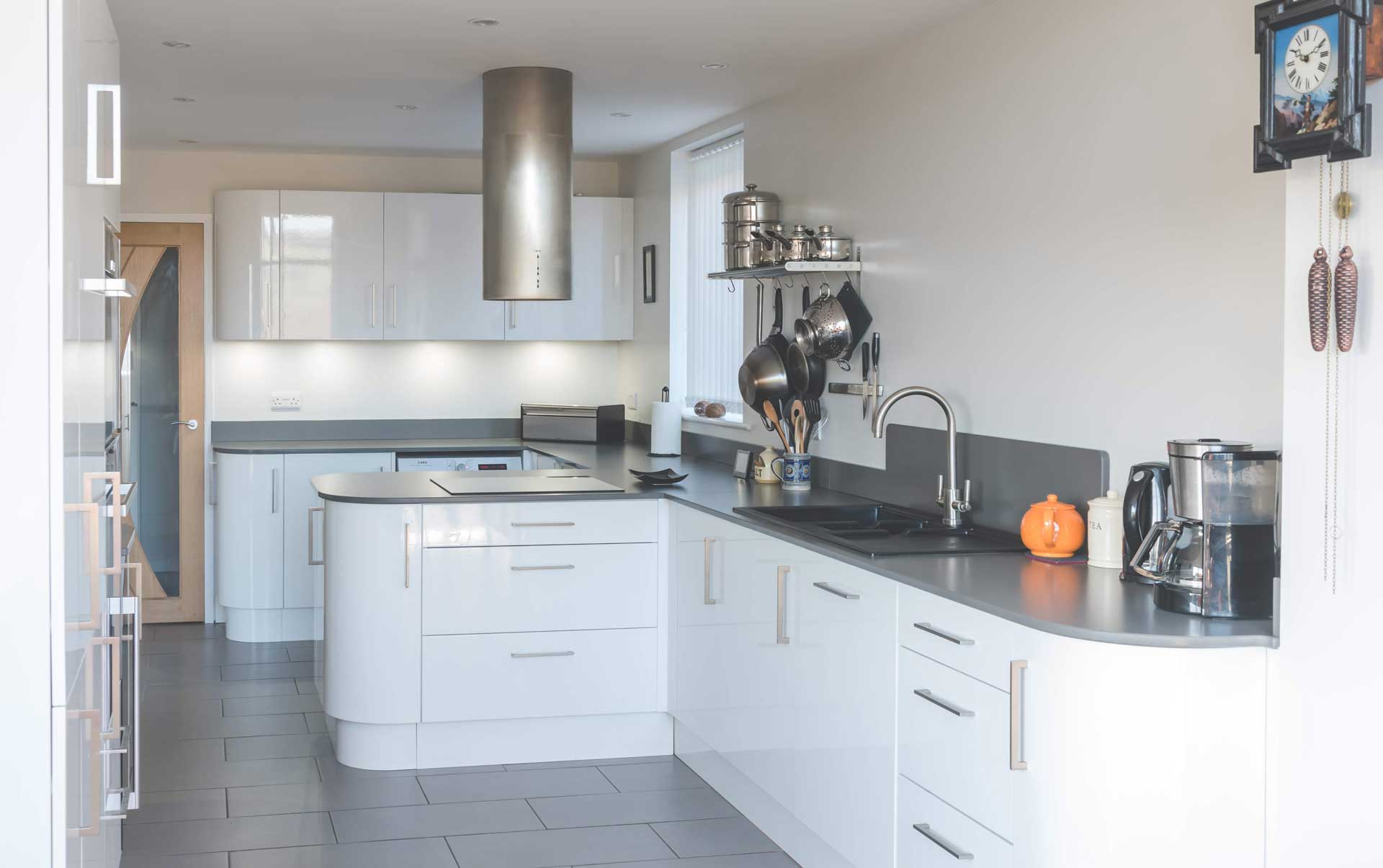 Much of the storage space of this kitchen is condensed into the larder wall area. To the left of the oven, there is one large pull-out larder, though we used two doors to keep the design cohesion and structural integrity. One long thin door would be far more prone to warping/bowing over time.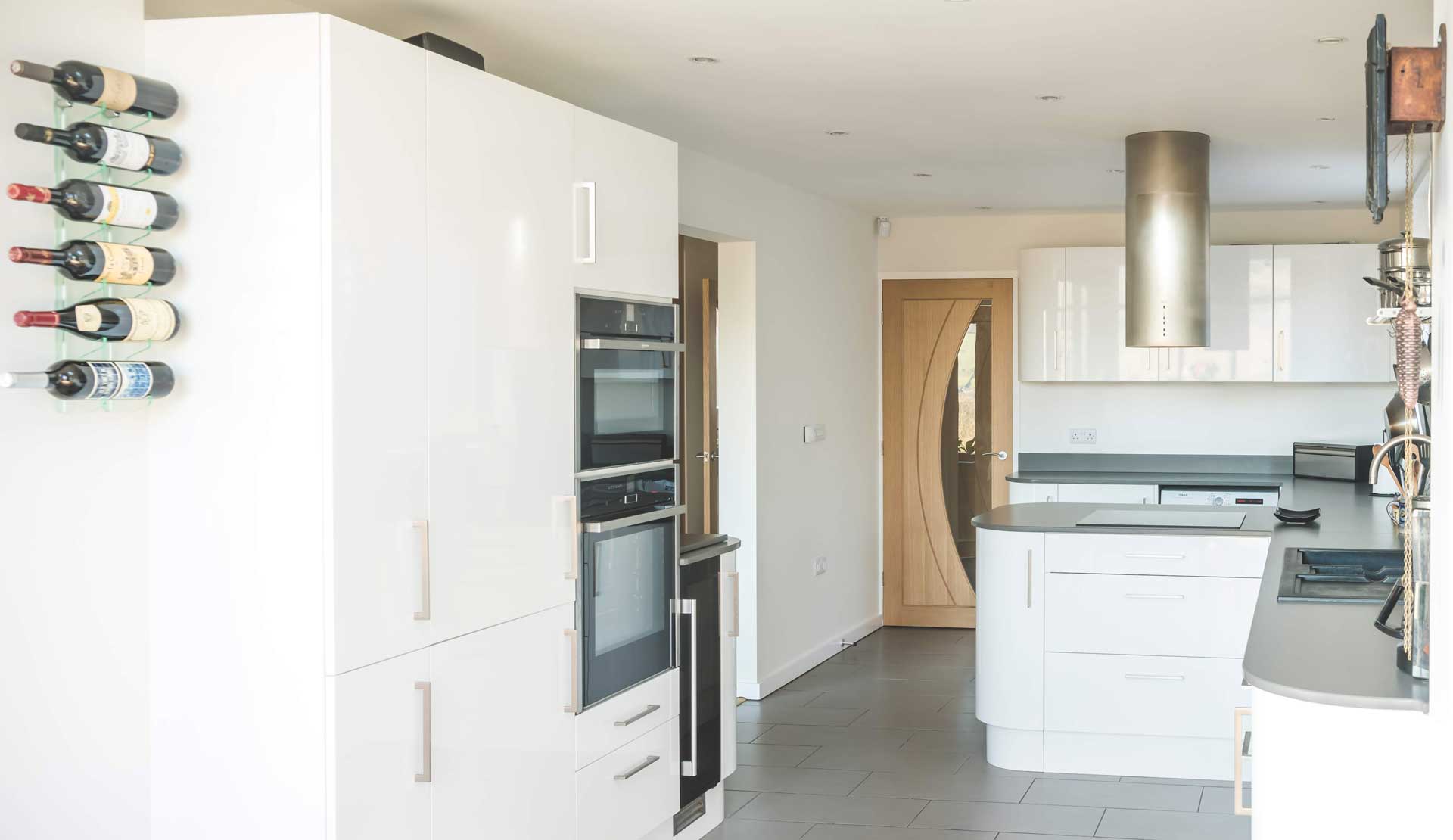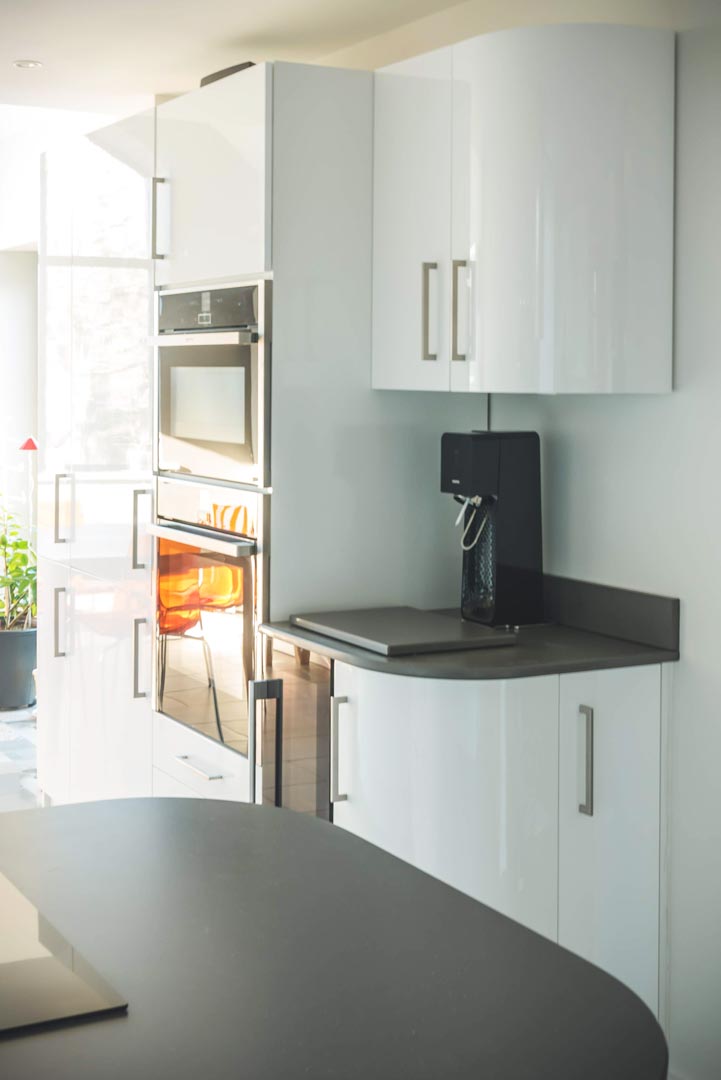 The chosen kitchen suite is from our Image Gloss range which offers beautiful fluid corners and curves to the cupboard units and worktops. This really helps bring a more tranquil and modern feel to a kitchen.
Other design features of this kitchen include a wine fridge (what is a kitchen without a wine fridge..?! ?) and a combo microwave/oven above the main oven to save on worktop space by not needing a standalone microwave.
The worktop is a 20mm quartz suede finish. It's a hard and durable surface with a slightly soft touch and mottled texture. This provides the best of both worlds – high-end luxury worktop look and feel but can withstand the day-to-day usage that kitchen worktops require.
As a bonus, every quartz or granite worktop we fit, our suppliers provide a matching chopping board which is taken from the sink cutout.
The extractor fan is a stylish and simple piece to compliment the Image Gloss kitchen suite which can be remote controlled for extra convenience. The fan hovers above an induction hob, the safest type of kitchen hob which if you have the budget for, we would highly recommend.
Another satisfying and enjoyable project to work on and in the most beautiful surroundings.
Join our newsletter for kitchen info and design inspiration
Book a free consultation
We are currently offering online design consultations
Nice things people are saying
"We have been hugely impressed with Hill Kitchens"
"Many of our friends have noticed and commented on the high quality of workmanship"
"Lots of good advice and information. The finished job looks excellent. Very reliable and highly recommended."
"Very professional, friendly and knowledgeable with a really good eye for design"