From small room to open-plan living
A newly-wed couple wanted to transform their kitchen from a small, isolated room, into a fresh and modern family room.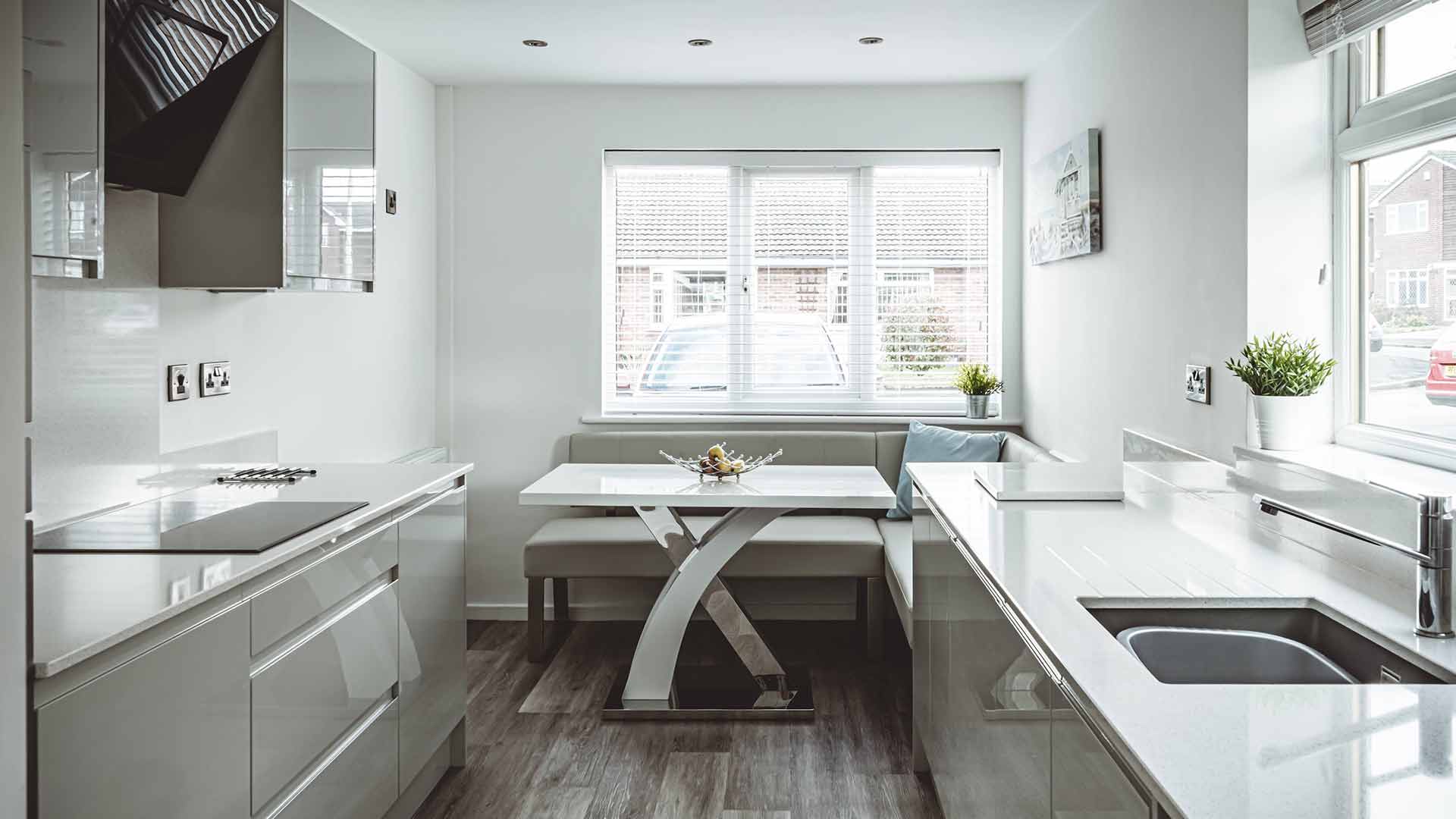 The couple approached Hill Kitchen Co. with the idea of a table and sofa area at the end of the kitchen for the family to sit around. The brief was to design the kitchen around the table area with the colours and textures they had already chosen for it.
Our aim was to create an 'open-plan living' feel to the room without having to knock through a wall – it is possible to create luxury family kitchens without knocking down half your house and rebuilding it!
Another important part of the brief was to hide the boiler area which was at the other end of the kitchen. We did this by building a storage unit with a concealed door which is made up of two cupboard panels. The door now leads into a small boiler housing area behind the storage unit. Within the new false walled storage unit there are cupboards and a pull-out larder, providing far more storage space than before.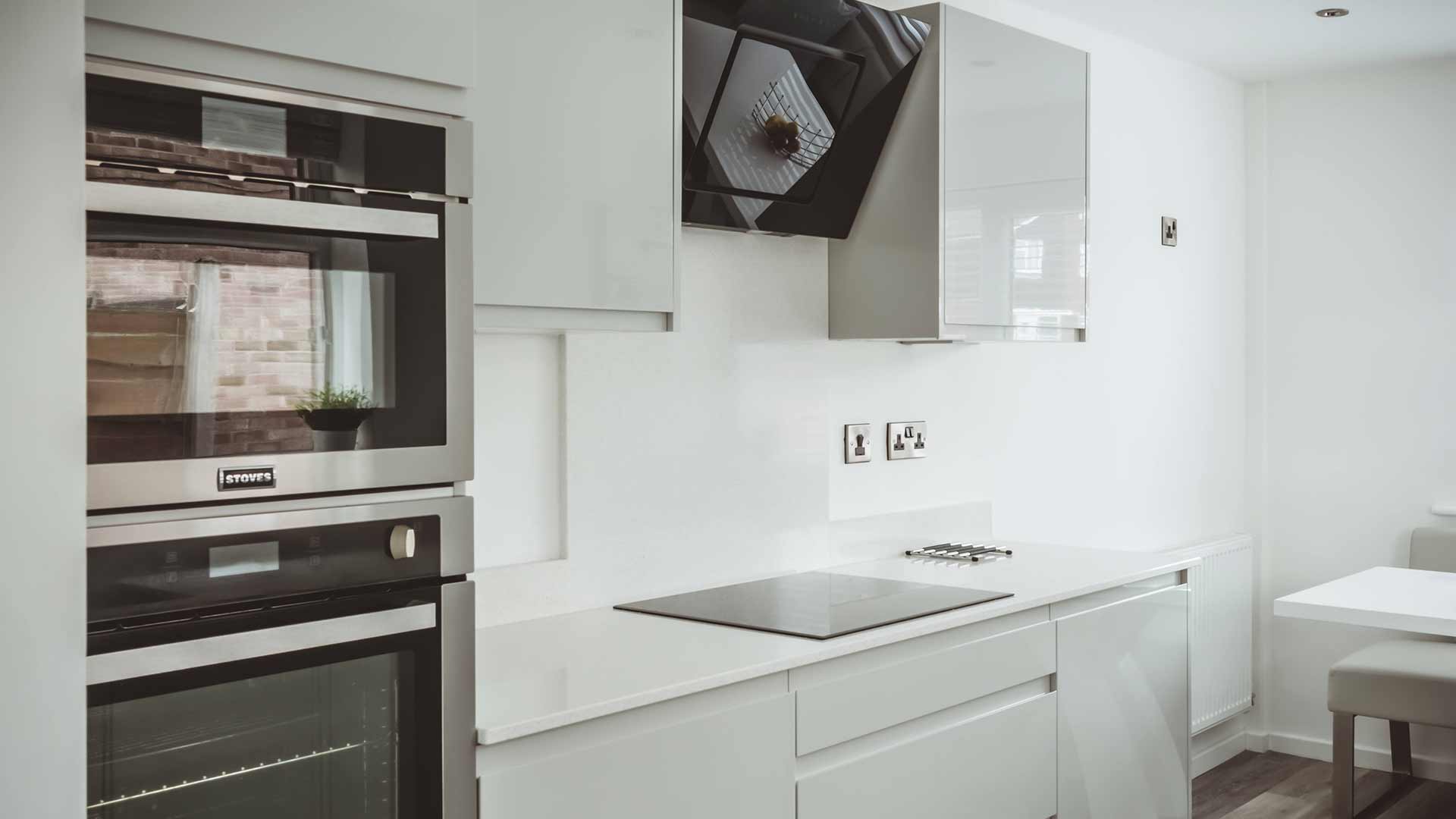 As a design feature, we used the extractor fan as a 'show piece' for the kitchen which helped break up the white/bright colour of the room and was set back into the wall, so not to be too imposing on a smaller galley kitchen.
The worktop is a 20mm quartz – a very high quality durable worktop but half the depth of a traditional kitchen worktop, as the thinner lines help create a modern and clean look. As a little bonus, the worktop supplier takes the sink cutout from the worktop to repurpose into a chopping board.
In-keeping with the modern look, we fitted an Integra Gloss Grey Mist kitchen which offers big wide drawers and cupboards. Wider storage units with long leading lines are typical of a modern kitchen design, rather than smaller drawers and units which typically feature in traditional kitchen designs.
We installed a combination microwave and single oven along with a standard oven which provides all of the flexibility one needs when cooking big family meals and saves on worktop space rather than standalone microwaves.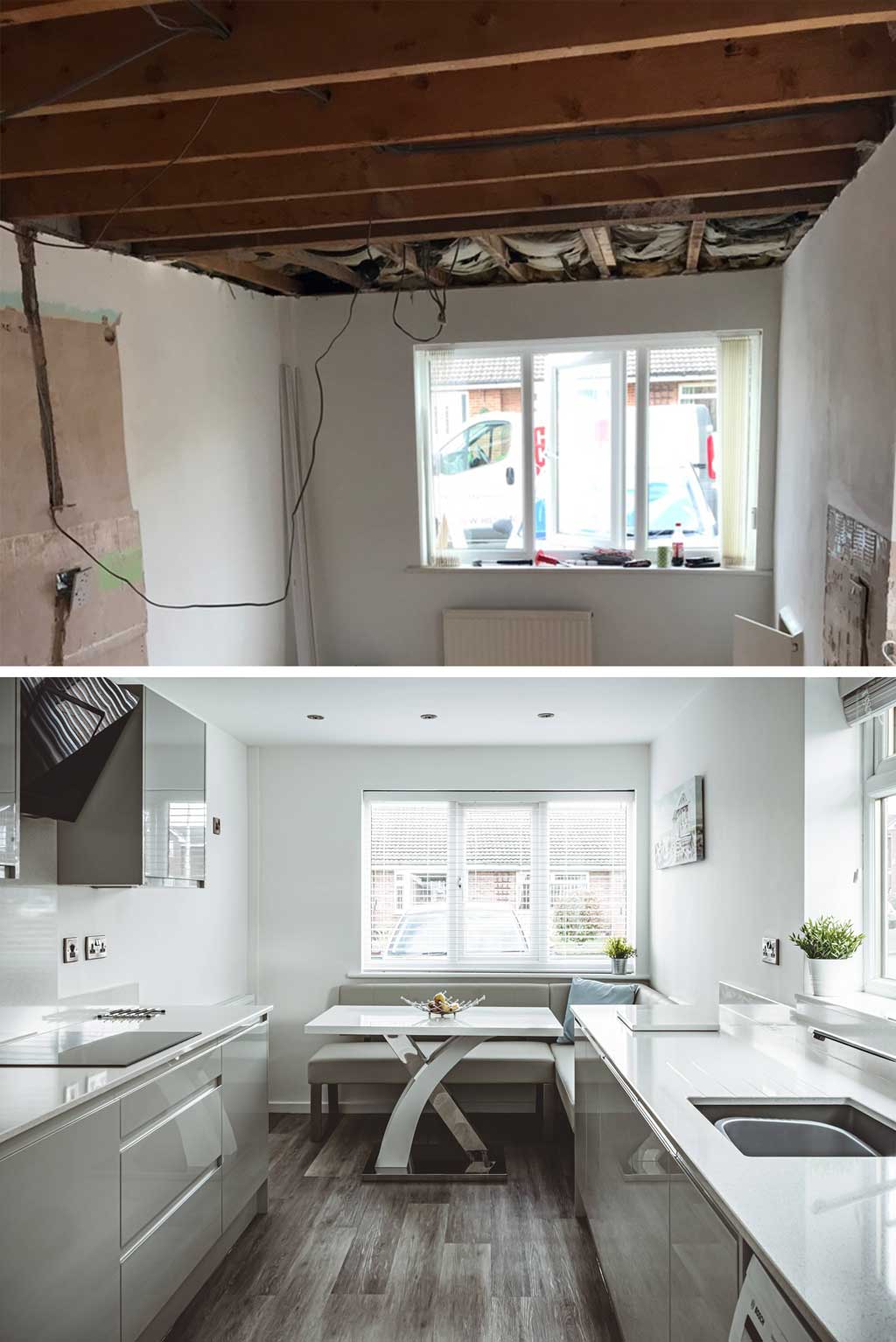 There was a fair amount of building work which we also took care of. We built a new ceiling complete with new spotlights, fitted a new circuit, upgraded the general electrics of the kitchen and replaced the fuse board.
We also moved a radiator, replastered the kitchen and refitted the internal door – it now opens into the hallway rather than into the kitchen to save on floorspace, thus creating more space.
This was a fantastic project to work on. It's always satisfying to take a smaller sized kitchen room and transform it into a highly functional space, as well as a beautiful family room.
Join our newsletter for kitchen info and design inspiration
Nice things people are saying
"We have been hugely impressed with Hill Kitchen Company"
"Many of our friends have noticed and commented on the high quality of workmanship"
"Lots of good advice and information. The finished job looks excellent. Very reliable and highly recommended."
"Very professional, friendly and knowledgeable with a really good eye for design"