6 Kitchen Design Trends for 2021
We regularly write articles you'll find useful when planning to update your kitchen – you can sign up for our Kitchen Inspiration emails here so you don't miss out.
The emerging theme for 2021 is kitchens becoming home hubs, rather than just a place to make food. With a mixture of bohemian open plan living, traditional tiles, bold colour all combined with a minimalist approach, things are looking exciting for kitchens this year!
1. Open plan – living room meets kitchen
Open plan kitchen diners have been a favourite for those who have the space or even those who don't (with clever planning you can achieve this in a regular sized kitchen). Now the idea is developing – maybe as people have been working and schooling from home – and people are looking to create a space that incorporates elements of the living room as well as the dining room. The kitchen is no longer a place just to cook and eat, it is truly becoming the hub of a home.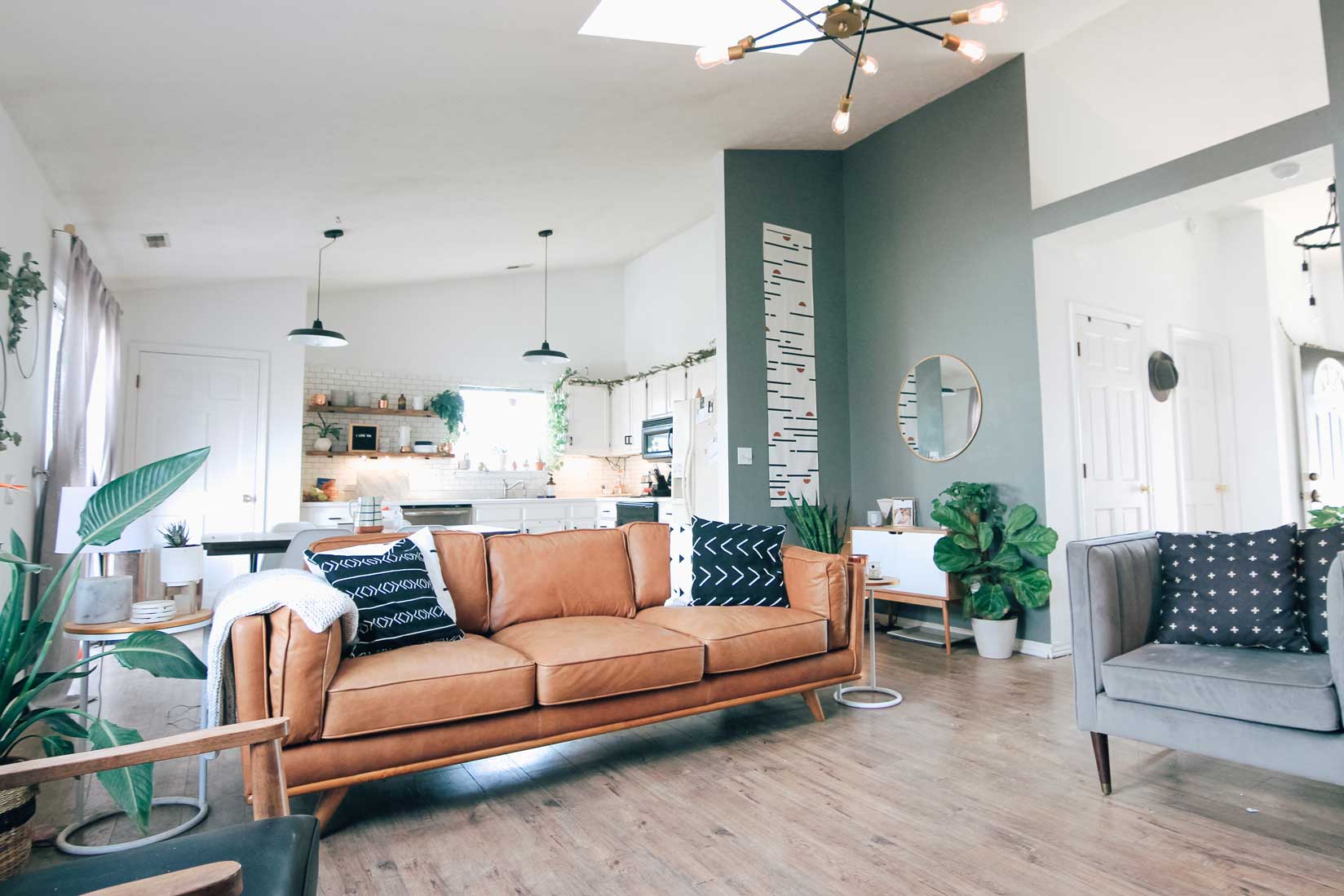 The kitchen living room is the new kitchen diner
2. Maximised spaces
Clever storage ideas are nothing new, but with people wanting their kitchens to blur into the living space, keeping the kitchen area tidy is very important. Expect to see more larder pullouts, large drawers and tall units to free up worktop space and hide appliances, ingredients and utensils while maintaining convenient access.
Well thought out storage solutions will maximise your space
3. Less is more
Tidy clean lines follow on in the theme for 2021. Including tall cupboards which can be full height larders, house refrigerators and twin ovens will work in smaller galley kitchens and larger kitchens alike. The look creates a neatness and flow and the extra storage leaves worktops clear. Having two ovens, with one being a combination microwave as well as a regular oven means you have more oven space and you don't need a microwave on the worktop.
With the well planned storage you can match the tall units with open space above your worktop units, rather than crowding the kitchen with wall cupboards.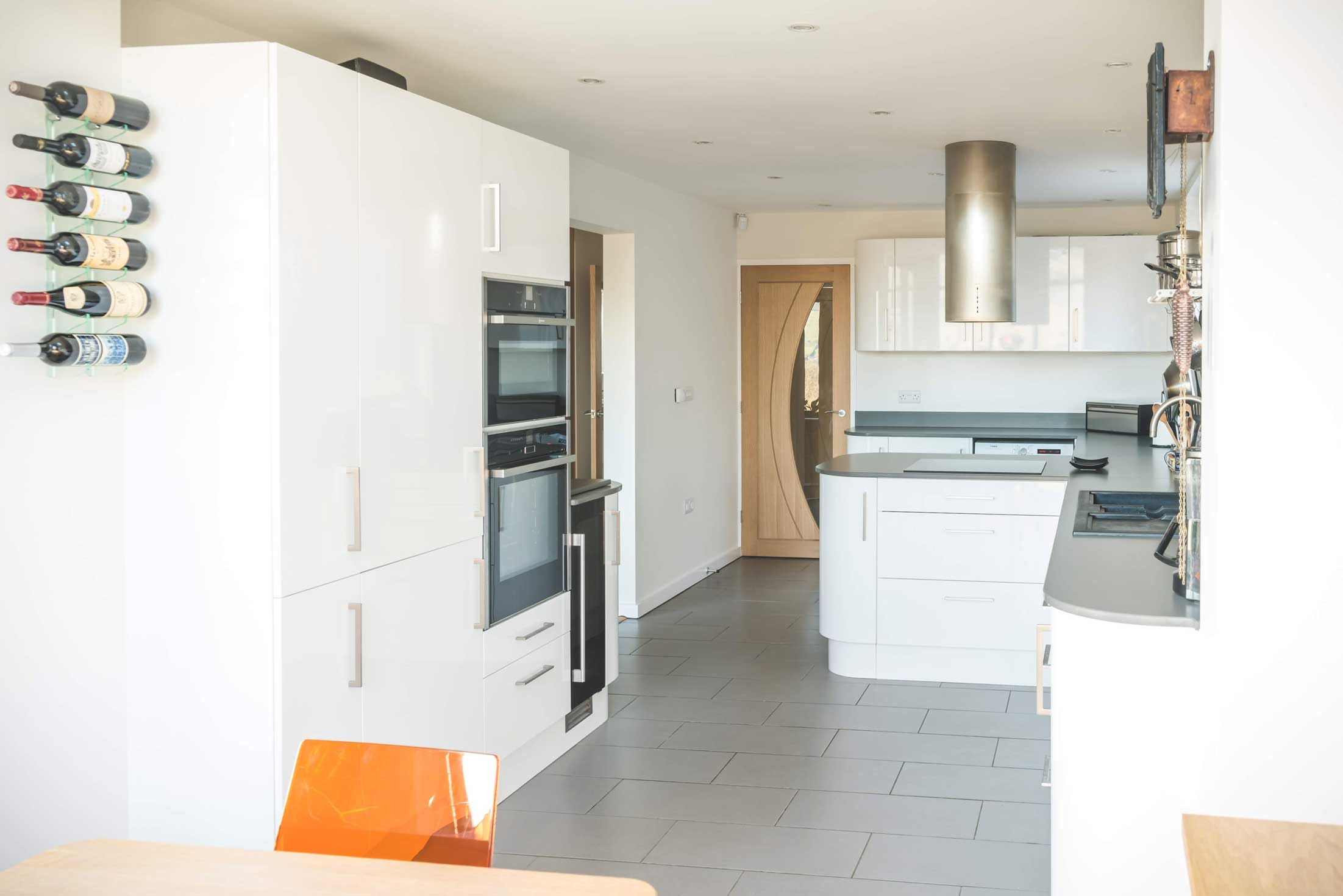 Minimalism via careful design with maximised storage
4. Modern tempered with traditional
So far this year we are almost exclusively fitting Solent kitchens. We think this comes from people wanting a clean, modern look to their kitchen, but with a sense of time to the design. No one wants a kitchen that looks old fashioned, but equally you want your home to be anchored in some way to the past. The Solent range, which is what we call our Shaker design, is exactly this – modern and simple, with a basic panel that introduces a subtle element of time.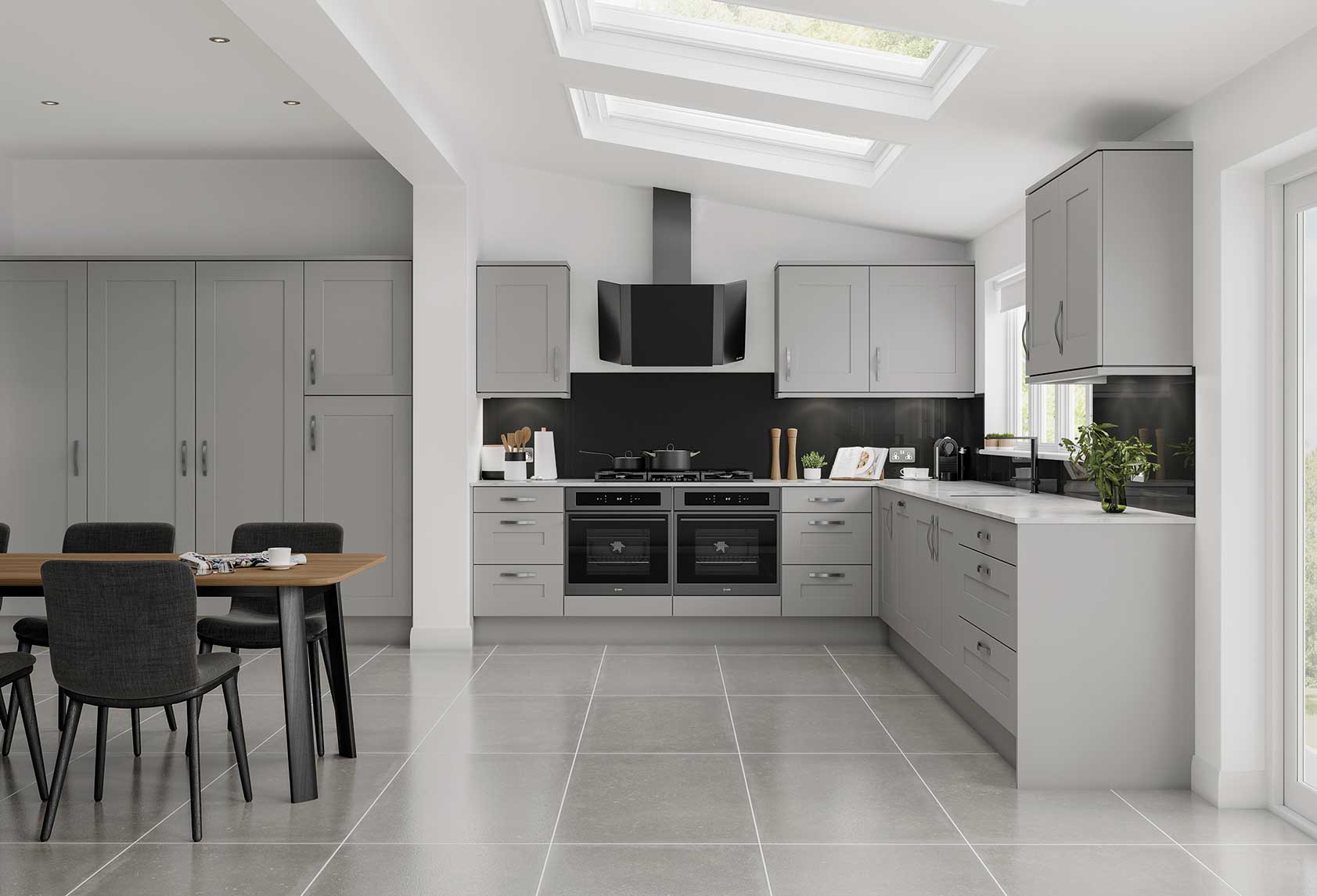 5. Feature tiles
This year, expect to see people using tiles to make a feature of the back-splash area of their kitchen. I don't think we'll be seeing anything bright or garish, instead people are taking interest in a display of victorian style tiles either with a pattern or perhaps a simple metro tile in a deep colour, such as emerald green. Possibly this could be floor feature too (picture a section of tiles in the working standing area).
The back-splash is also likely to be a feature for those choosing quartz worktops – with the quartz being taken right up the wall making a beautiful feature and also being extraordinarily practical (no grouting to clean and the stone merchant installs it for you).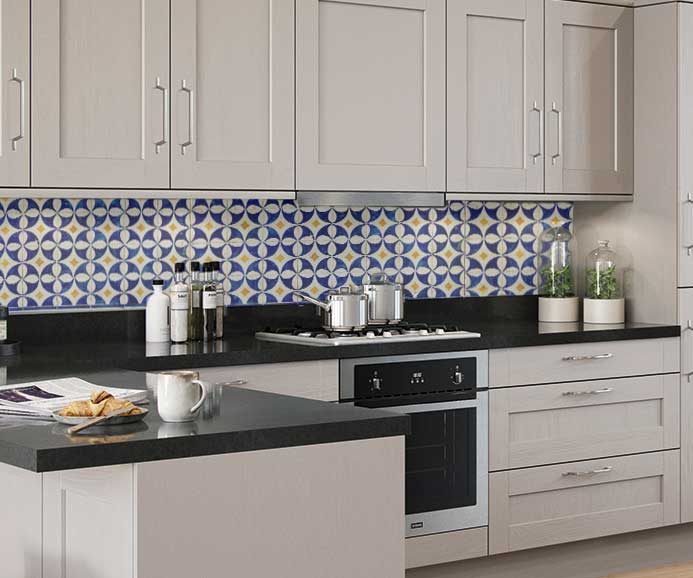 Bold, patterned, traditional & retro tiles make a back splash feature
6. New colours
Green cabinets (really though?) are heading our way. When I first noticed this, I wondered if the early 90s green jeans wearing brigade wanted their design sensibility back (along with the dusty basket of potpourri) – but now I've seen it, I think I like it! We've been installing kitchens in subtle tones of green, but bold green is back for 2021!
Indigo blue continues to dominate the bold colour choice, however. It really started to gain popularity last year and it works well in larger kitchens or as part of a two tone design in smaller/regular sized kitchens.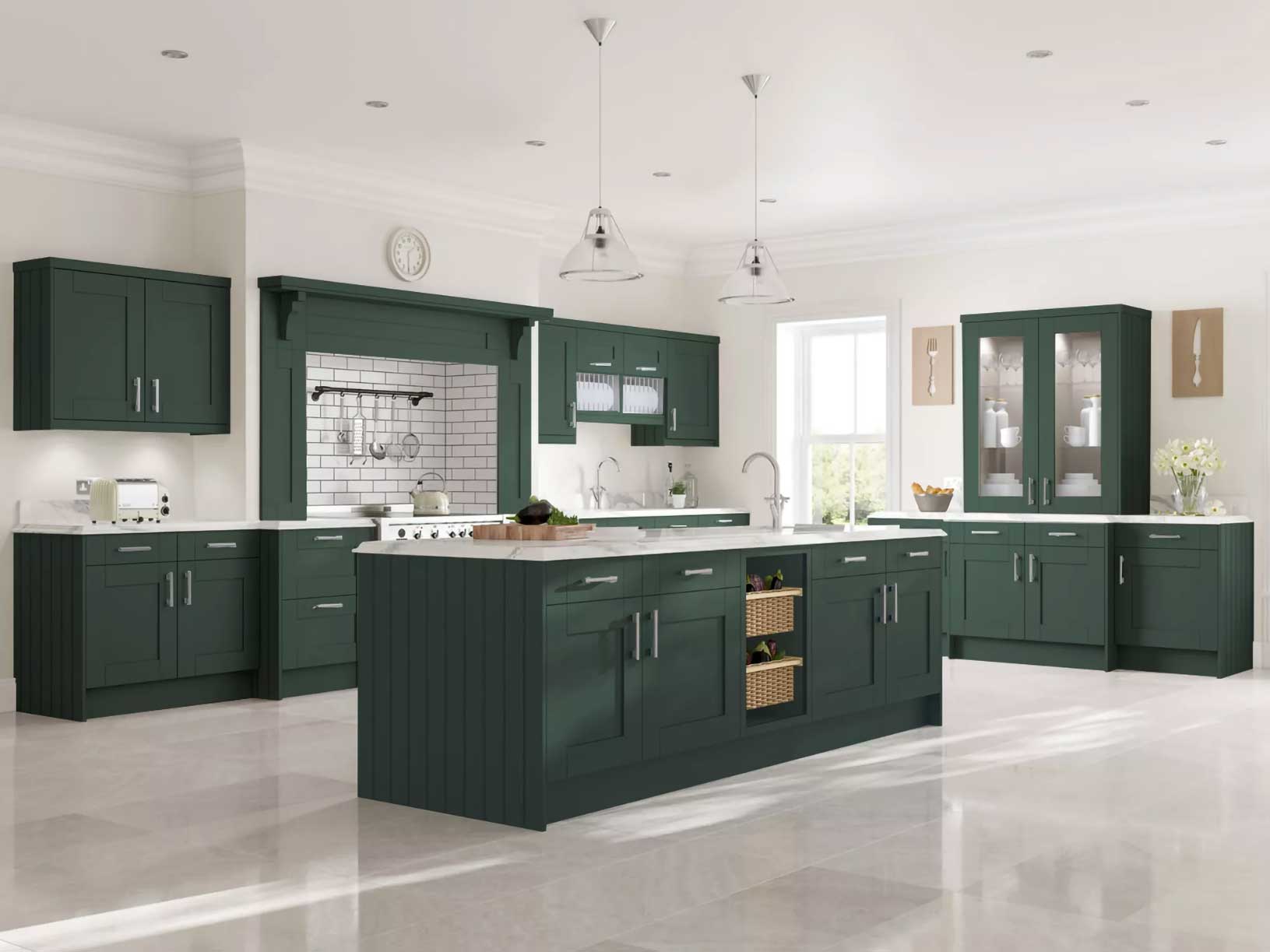 The new Laurel colour in the Pendle range
Join our newsletter for kitchen info and design inspiration
Free design & Quote
We can help you design your perfect kitchen, whatever your budget. Our expert will visit you or talk via video call. We can design your kitchen space to become the room you want it to be – no obligation.
Click below for details and booking.
Nice things people are saying
"Many of our friends have noticed and commented on the high quality of workmanship"
"Lots of good advice and information. The finished job looks excellent. Very reliable and highly recommended."
"Very professional, friendly and knowledgeable with a really good eye for design"
"We have been hugely impressed with Hill Kitchen Company"