5 Tips For a Smooth Kitchen Installation
We regularly write articles you'll find useful when planning to update your kitchen – you can sign up for our Kitchen Inspiration emails here so you don't miss out.
Kitchen installations can take between 1-3 weeks. How will you store, cook and prepare food (let alone do the washing up)?
Before we arrive and offer your old kitchen to a hungry skip, here's a guide to preparing yourself for the temporary inconvenience (it'll all be worth it though!).
1. Food Storage
Before you dispose of your old fridge and freezer (or if you're keeping them), find a suitable place to keep them running during the installation. We'll happily move them for you. It means you can keep milk fresh and of course have somewhere to store ready meals.
If you're keeping your fridge but not using it, be sure to keep your fridge door open ajar otherwise the fridge can develop an unwanted odour which is very difficult to get rid of!
Extra tip:
If you're keeping your fridge but not using it, be sure to keep your fridge door ajar otherwise the fridge can develop an unwanted odour which is very difficult to get rid of!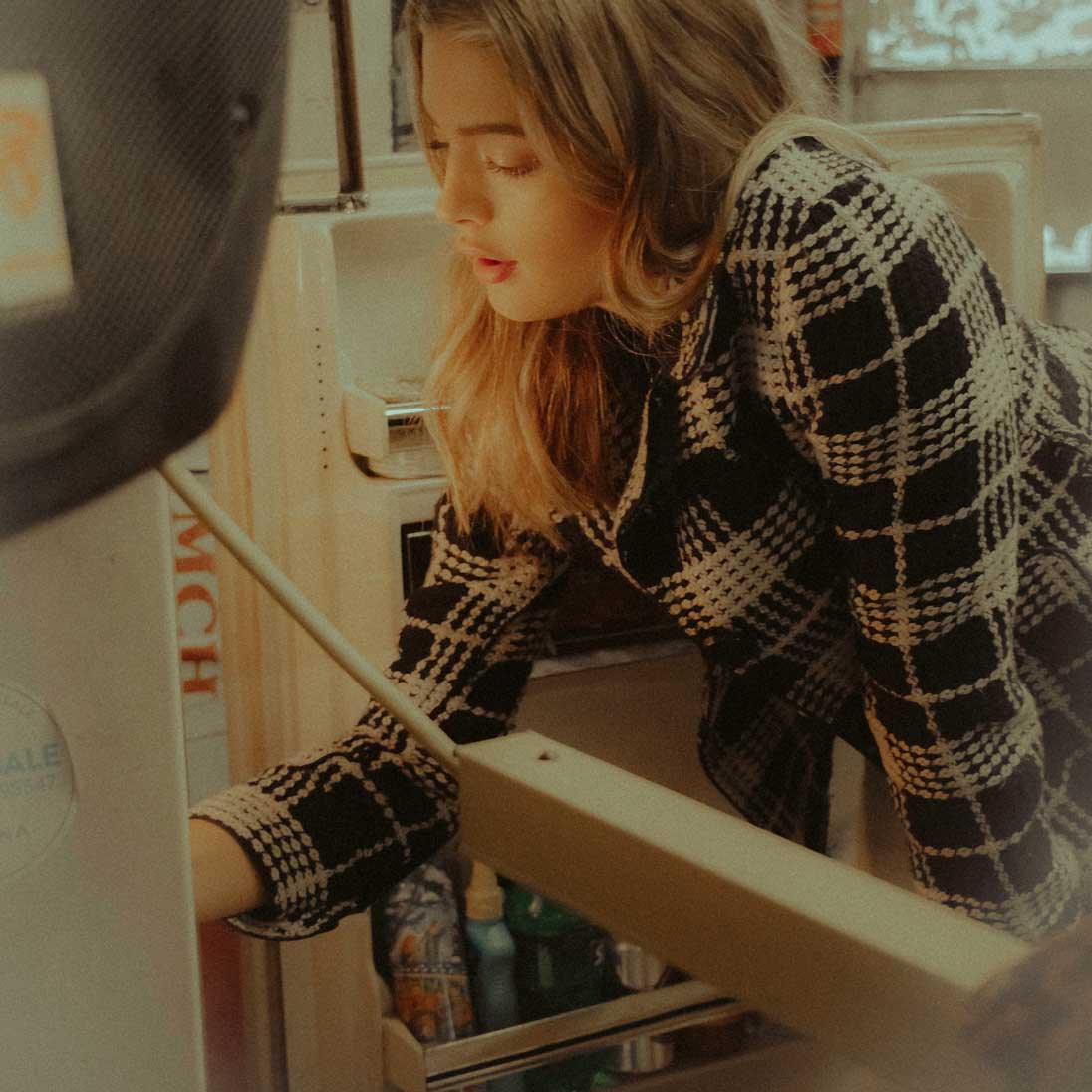 In amongst the temporary chaos is some fresh milk.
2. Make a Kitchenette
If you have a garage, this is an ideal place to set up a temporary kitchen. Otherwise find a suitable place in the house. We recommend getting a fold out camping table where you can prep food and drinks and put appliances such as a kettle.
If you're washing up in cold months, mix boiled kettle water and run cold water from the bath to do the washing up inside rather than in the snow. *This was a note added by Ben, who speaks from experience.
Essentials:
Make sure you keep back enough plates, mugs and cutlery when you're packing away your old kitchen cupboard contents.
If this dude had spent less time on his man-bun, he'd have remembered the cutlery.
3. Appliances You'll Need
Must haves are:
Kettle
Microwave
Plastic washing up bowl (for washing up outside or in your bathroom – be extra careful not to get food down the plug!)
Can opener! Don't put this into storage by mistake!
If you have space you'll be thankful for:
Portable Electric Hob –
I've seen lots of people using camping gas stoves, but I would never recommend using one indoors. Better to play it safe and invest in a portable electric stove. You can pick them up starting at £25 online.
Toaster
Slow Cooker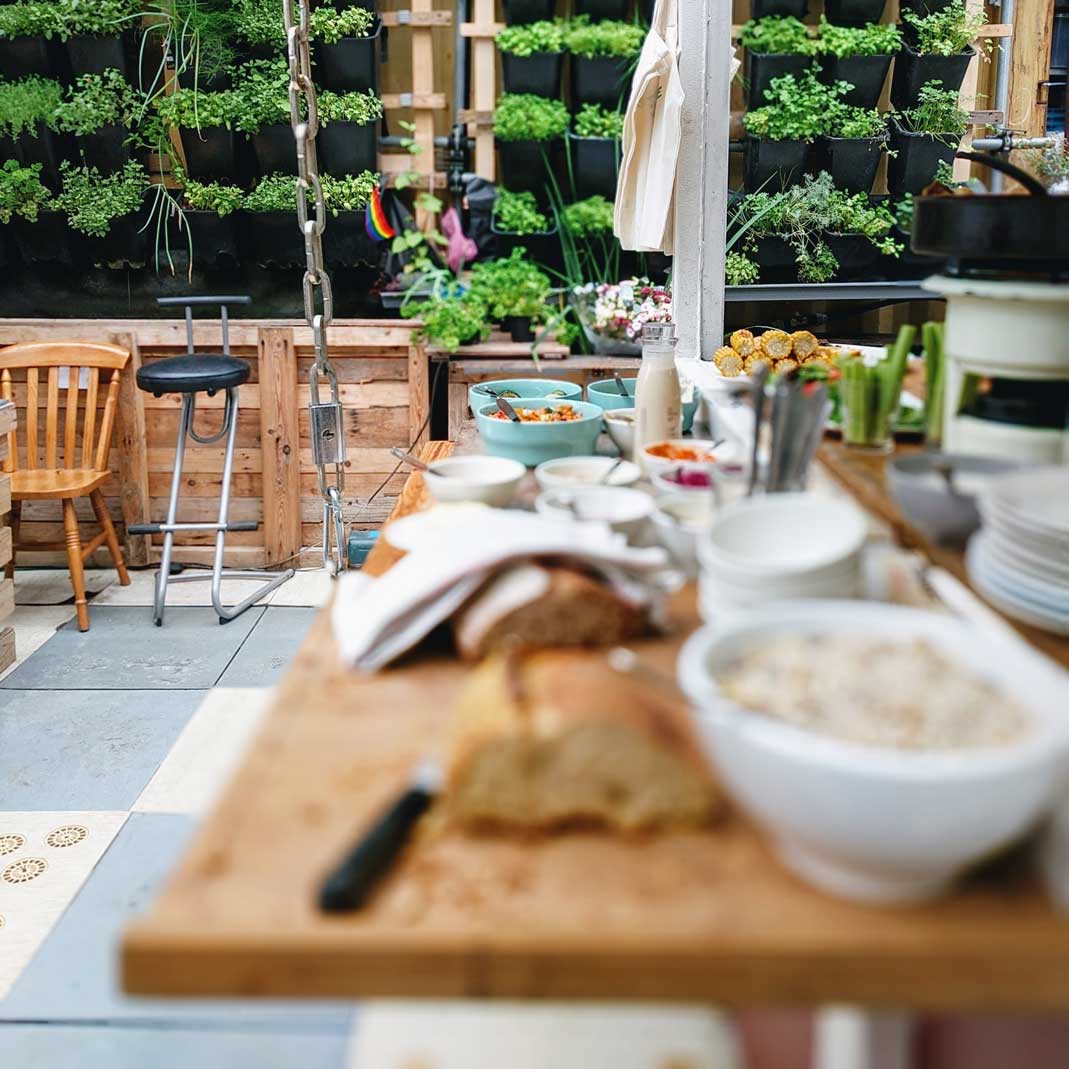 Here's a realistic example of a temporary kitchenette set-up for you to aim for.
4. Premade & Ready Meals
Takeaways get tiresome fast and they're often not so healthy! It's definitely worth saying a triumphant goodbye to your old kitchen by cooking up a load of meals you can freeze and heat up in a microwave.
Think lasagna, casseroles, cottage pie etc. If you're going to rely on a microwave you can just use microwavable rice pouches – although mashed potato freezes really well (as any parent with a baby will tell you). Here's a great list of freezable meal ideas from BBC Good Food:
https://www.bbcgoodfood.com/recipes/collection/freezable-recipes
Extra tip:
Is it me or do lunches always get forgotten? Plan for those too!
Cheeky tip:
Assign family and friends to make you a meal to freeze or drop off fresh.
This will go nicely with a rare steak.
5. Treat Yourself
Budget permitting, I would recommend planning two restaurant trips or takeaway meals for every week your kitchen is out of action. It'll help keep your spirits up – even though we try to minimise the disruption, there is still an element of camping to proceedings, so a bit of luxury goes a long way.
I'm writing this during a Covid lockdown, so you probably can't eat out – but plenty of restaurants do takeaway!
Extra tip:
Surprise yourself and order something different from your usual takeaway. Or not.
If Hill Kitchen Co. did takeaways, they'd be fantastic.
Wrapping Up
There's no getting away from it, having a kitchen installed while you're living at the house will mean you have to do some temporary glamping. A little organisation will go a long way and we will do everything we can to keep the disruption to a minimum.
If you have any tips from past experience, we'd love to hear from you!
Join our newsletter for kitchen info and design inspiration
Free design & Quote We can help you design your perfect kitchen, whatever your budget. Our expert will visit you or talk via video call. We can design your kitchen space to become the room you want it to be – no obligation. Click below for details and booking.
Nice things people are saying
"Many of our friends have noticed and commented on the high quality of workmanship"
"Lots of good advice and information. The finished job looks excellent. Very reliable and highly recommended."
"Very professional, friendly and knowledgeable with a really good eye for design"
"We have been hugely impressed with Hill Kitchen Company"