3 Ways to Re-Imagine Your Kitchen
It's tempting to recreate the new look around existing features.
But it's good to consider everything from scratch.
Picture this ☁️
Imagine you moved into a house with an empty room where your kitchen will go.
Imagine you don't own any appliances at all.
Imagine the things you do or want to do in your kitchen.
Consider the things that bother you about your current kitchen.
Consider the things you love about your current kitchen, or a kitchen you've used in the past.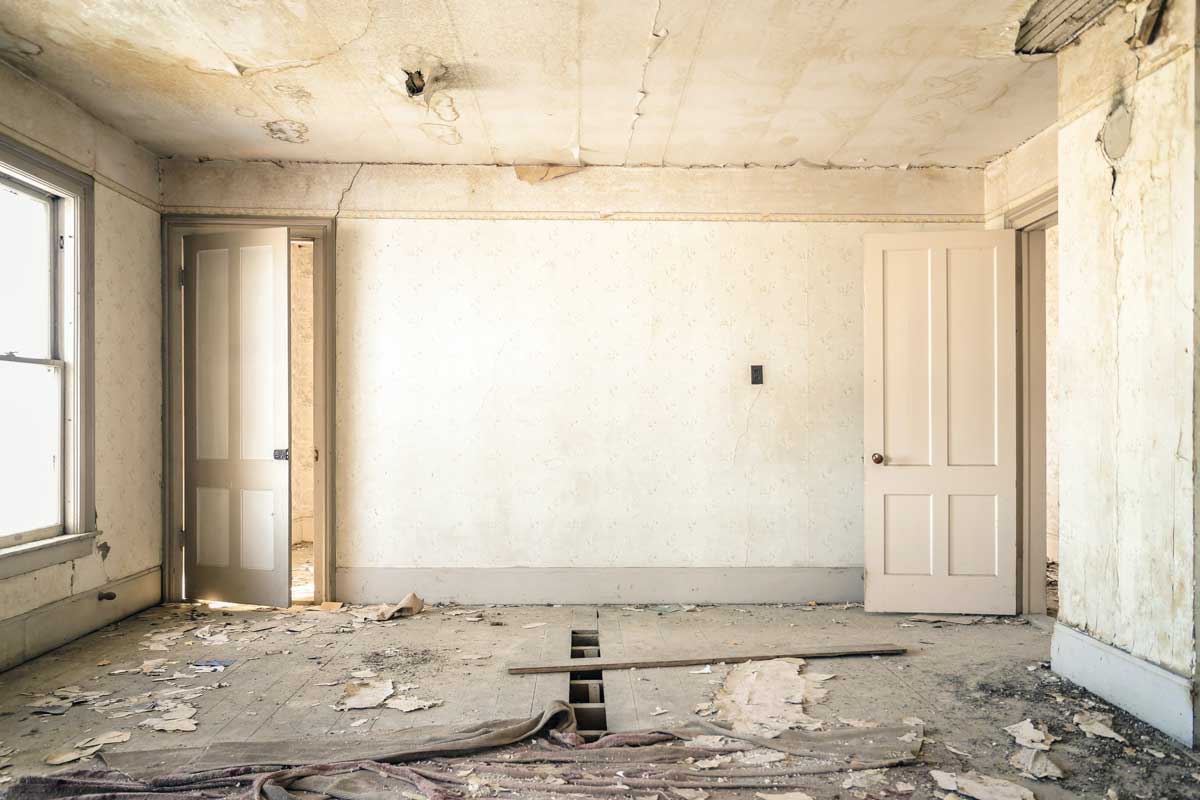 Not much to do in here then.
With the above in mind, make a list of the following:
Things you use regularly.
Things you wish you used more often.
Then make a list of the type of cooking you do such as:
Baking
Dinner parties
Batch cooking
One pots
Cooking with kids
Ready-made meals (we're not judging)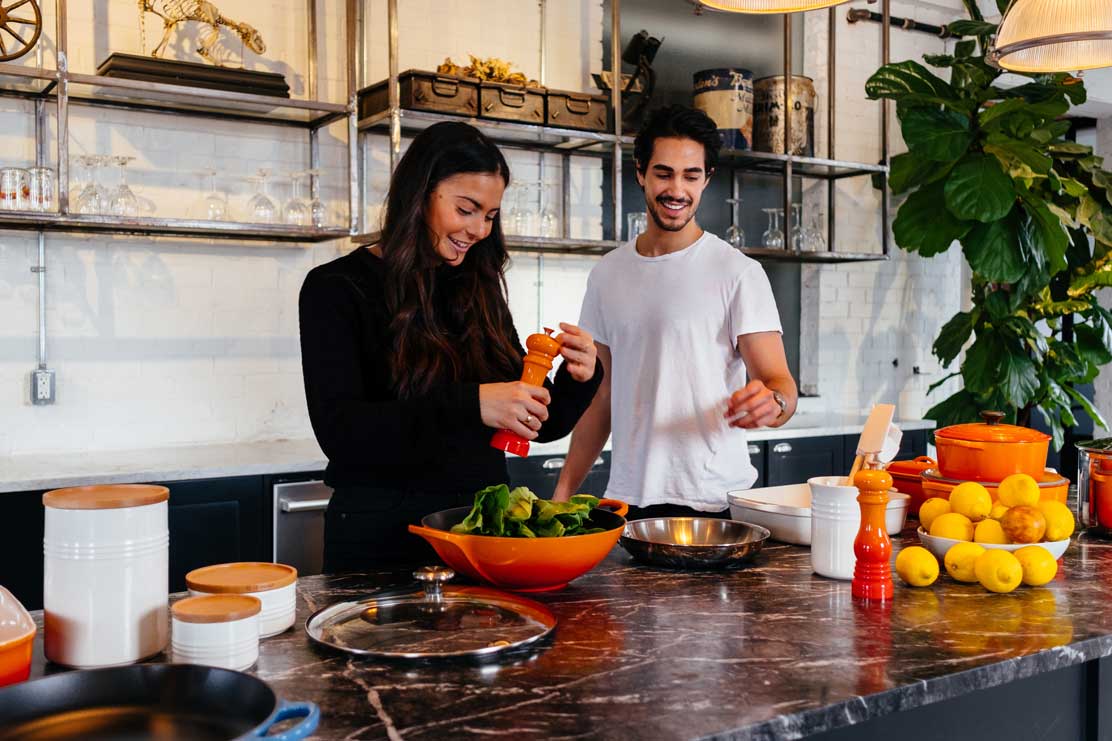 These guys use a lot of lemons. Looking at the shelf, they don't feed the cat.
The 3 Ways To Re-Imagine:
When imagining your new kitchen, consider the following three things with your lists in mind:
1. The position of things.
Where do you have your fridge in relation to your most used work spot?
Do you find it awkward to bend down to use your oven?
If you cook for a family, do you need two ovens?
Consider a combination oven microwave to give extra oven space while increasing counter space by eliminating your countertop microwave.
How about a pull-out bin underneath your main preparation area, so you can easily sweep waste away.
Where do you want your prep area in relation to your food storage, hob and oven?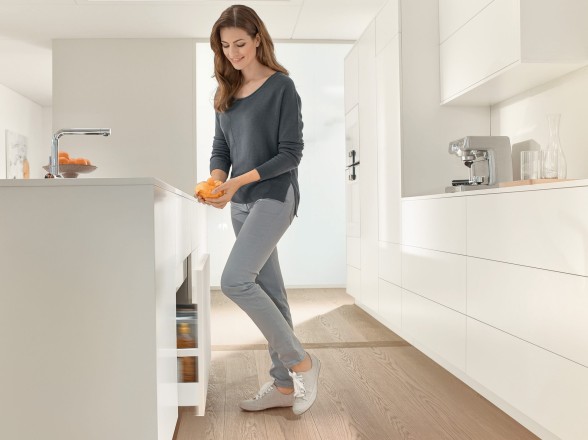 A Blum pull-out bin is a great solution for convenience and space saving.
2. The way things are stored.
Do you have go-to utensils?
Consider having certain items available from a drawer unit directly underneath your hob.
Do you use certain ingredients regularly?
Have your herb and spice jars in a drawer so you can easily get an arial view and grab them quickly.
SOMETHING THAT ACTUALLY CHANGED MY LIFE – I made sure there was a metallic spot on the wall near my toaster so I could easily stick my magnetic wooden toaster tongs. It's a small detail, but it's one of the most useful changes I made in my kitchen.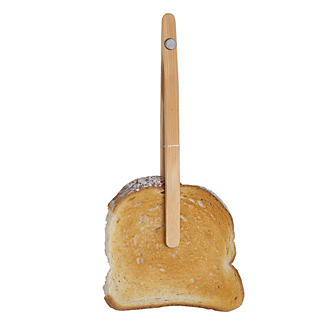 Toaster tongs with magnet. Get them from lakeland here (no affiliation at all, just being helpful).
3. The things that never get used – give them the right space or get rid.
Some items you'll want to get rid of, some just never get used because they're hidden at the back of a cupboard.
For example, when I redesigned my kitchen, I made sure there was counter space for my slow cooker and my bread machine. Neither had ever had much use, but I now don't have to think about it and I use my bread machine just about every day.
Things I got rid of:
Steamer (useless and takes up so much space).
Food processor (I use a Braun hand held instead).
Bucket loads of Tupperware I was storing but never used (annoying).
Think of how much space that saved. About a whole cupboards worth.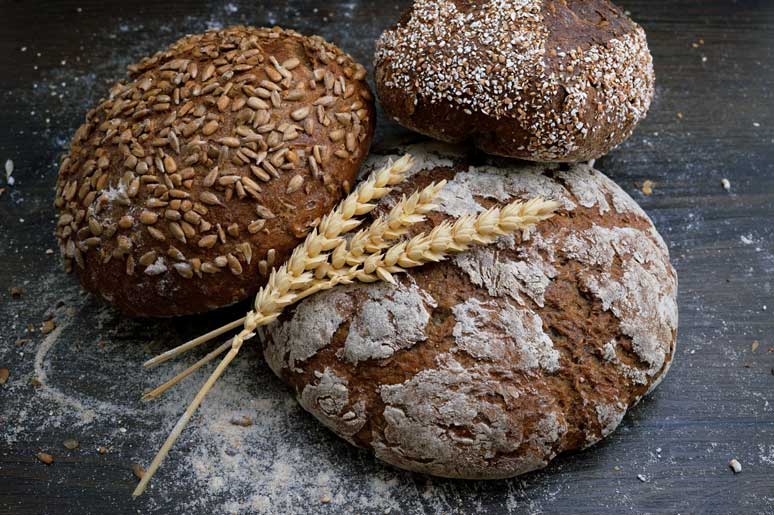 Giving my bread machine space means I use it daily. It looks just like this, displayed with spare wheat.
Thinking about how you work, what you use and how you can access it, along with how you can best arrange the space around you is the foundation of good kitchen design.
Clear your mind, make some lists and then chat with us. Together we'll create you a kitchen that will delight you.
Join our newsletter for kitchen info and design inspiration
Free design & Quote
We can help you design your perfect kitchen, whatever your budget. Our expert will visit you or talk via video call. We can design your kitchen space to become the room you want it to be – no obligation.
Click below for details and booking.
Nice things people are saying
"Many of our friends have noticed and commented on the high quality of workmanship"
"Lots of good advice and information. The finished job looks excellent. Very reliable and highly recommended."
"Very professional, friendly and knowledgeable with a really good eye for design"
"We have been hugely impressed with Hill Kitchen Company"