2 Inexpensive kitchen ranges with wow factor
Hill Kitchen Co

offers two particular ranges which are perfect if you're looking to spend less – but their style might just suit you even if you have a big budget for your new kitchen.
Let's introduce the Temp & Avola ranges and look at 3 ways you can use them in your design for real wow factor.
Why are Avola & Tempo less expensive?
Our Avola and Tempo ranges less expensive because they are made from MFC board (multi-finish laminated chipboard) and then finished with a very high quality PVC edge. They feel great to the touch, with just the right weight and they're solid and hard wearing.
Variety of finishes
Between the two ranges there is a choice of 9 finishes to choose from including colour, wood and stone effects. There are also glass front options for each. What makes these finishes so good is, despite being man-made, they give a very natural, earthy and modern feel to your kitchen.
3 ways to style for wow factor
1. Accent doors – perfect for the Scandi look
The key component of the much loved Scandi look is a natural, uncluttered and spacious feel – using a natural look finish in matt, alongside a modern gloss as an accent can help achieve this.
The Avola and Tempo finishes are perfect for accent doors. Some of the finishes might look a bit overbearing used for the entire kitchen, especially in a smaller space or a large floor to ceiling wall of cupboards. Used as accents for colour and texture within another plain colour range can really add a focus to the kitchen room, breaking up the design to prevent the main finish choice from being visually overwhelming.
2. Worktop choice
Using the Avola or Tempo finishes as an accent, we recommend complimenting this with thin granite or quartz. A light stone can really lift the design and choosing a thinner depth is both less expensive and looks like a fantastic, deliberate design choice – making your kitchen look and feel very high quality.
You can of course achieve a similar effect with the right choice of finish using a laminate worktop if your budget doesn't stretch to quartz or granite.
Note how the white thin quartz worktop lends a coherence and light touch of quality to the overall design.
Here you can see the combination of Temp Lines Driftwood in matt, combined with Image Lines Grey Mist Gloss. This is a perfect example of using a strong accent to create a kitchen that looks designed with care and thought, rather than feeling nice but bland.
3. Handle and Tap and sink choice

The choice you make for your handles is crucial as it can completely change the kitchen look. To really finish off the look with Temp and Avola, we recommend the using of our Wide Miami trim handle. It creates an almost handleless impression and give the doors a quality, modern finish. Practically they are great to use, giving just the right amount of purchase as you open and close your soft close drawers and cabinets.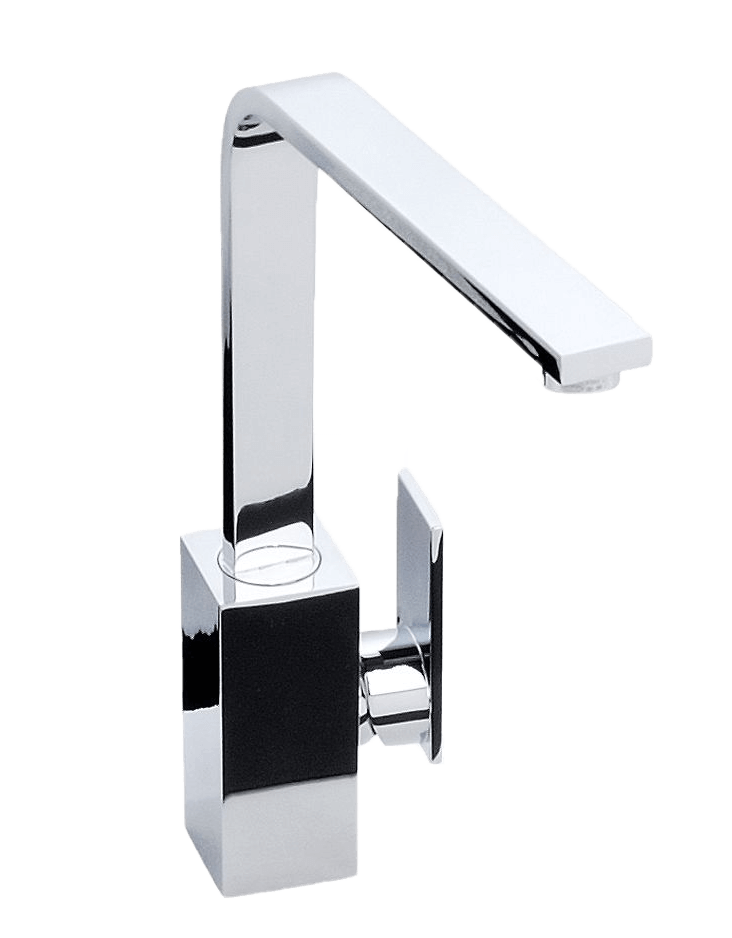 New Media Single Lever Tap -a stylish and no-faff addition to finish your kitchen.
Our favourite tap choice for this style is the New Media. Combine this with a dark resin sink and your kitchen will really stand out adding value to one of the most important spaces in your home.
Join our newsletter for kitchen info and design inspiration
Free design & Quote
We can help you design your perfect kitchen, whatever your budget. Our expert will visit you or talk via video call. We can design your kitchen space to become the room you want it to be – no obligation.
Click below for details and booking.
Nice things people are saying
"Many of our friends have noticed and commented on the high quality of workmanship"
"Lots of good advice and information. The finished job looks excellent. Very reliable and highly recommended."
"Very professional, friendly and knowledgeable with a really good eye for design"
"We have been hugely impressed with Hill Kitchen Company"